Dentures
---
People need dentures to replace lost or missing teeth so they can enjoy a healthy diet and smile with confidence. Dentures are made of either acrylic (plastic) or metal.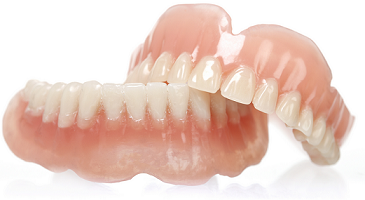 Full dentures, to replace all your own teeth, fit snugly over your gums. They will help you to eat comfortably and speak clearly, and will improve your confidence and self-esteem.
Partial dentures replace teeth that are missing and can sometimes be supported by the teeth you have left. If you have gaps between your teeth, then your other teeth may move to take up some of the space, so you could end up with crooked or tilted teeth. This could affect the way you bite and could damage your other teeth.
Usually dentures can be fitted straight after your teeth have been removed. These are called 'immediate dentures'. With immediate dentures you don't have to be without teeth while your gums are healing. However, bone and gums can shrink over time, especially during the first six months after your teeth have been taken out. If your gums shrink, your immediate dentures may need relining, adjusting or even replacing. Your dentist will be able to talk to you about this.
Even with dentures, you still need to take good care of your mouth. Most dentists advise using toothpaste and a small- to medium-headed toothbrush. Make sure you clean all the surfaces of the dentures, including the surface which touches your gums. This is especially important if you use any kind of denture fixative.
With regular professional care, a positive attitude and persistence, you can become one of the millions of people who wear their dentures with a smile.
If you have any specific question about Dentures please fill our Online Contact Form or call us on 0208 446 9878. Use our Online Consultation Booking tool to book your initial consultation.
Your Clinicians for Dentures